The Västmanland meal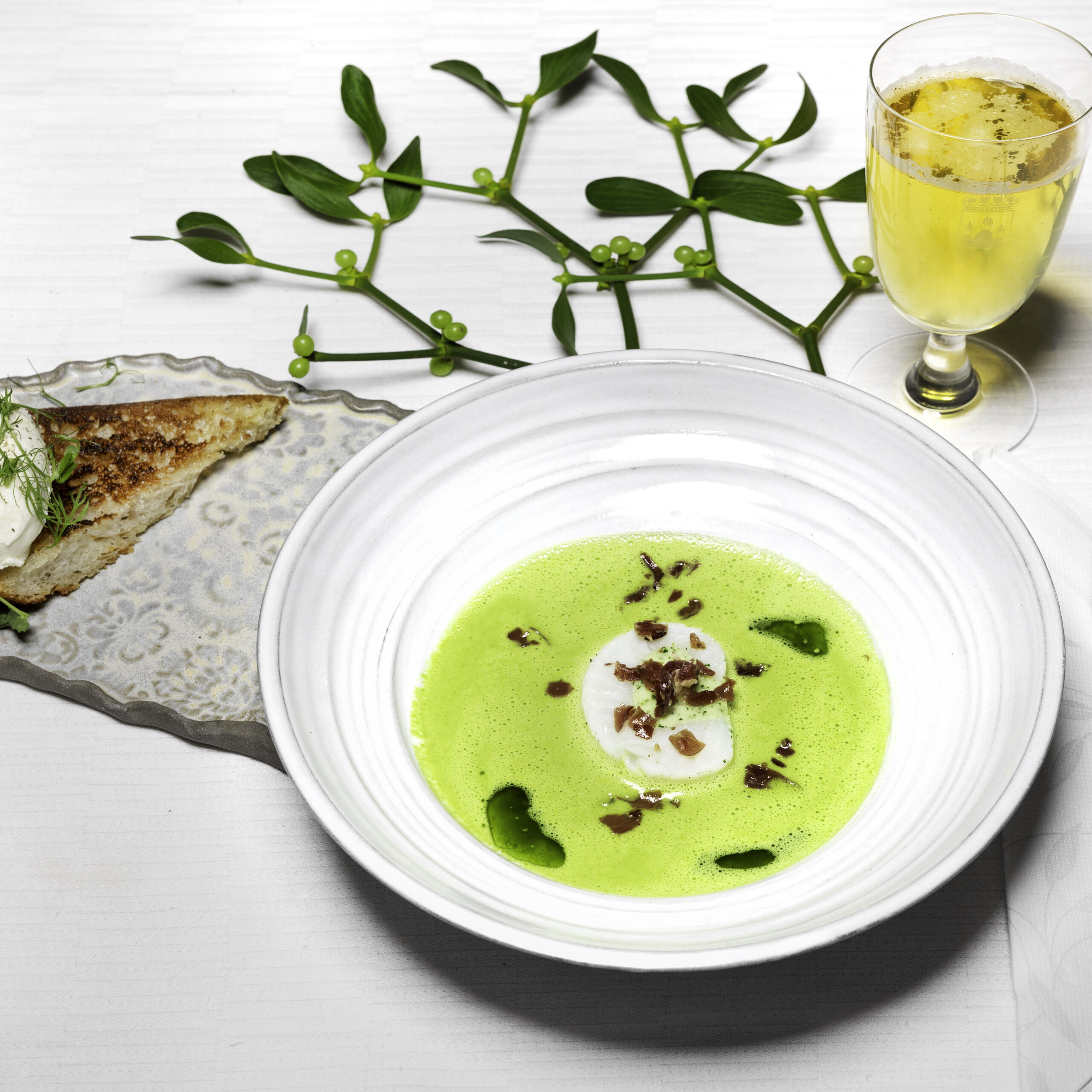 Starter
Green pea soup with dill-stuffed Lake Mälaren pike-perch
The soup is made from a base of roast cabbage and onion stock. The pointed cabbage, garden peas and onion come from Hebo Trädgårdsodlingar in Sätra Brunn. This hot pea soup is served with a pike-perch fillet roulade stuffed with dill. Topped with a sprinkling of specially smoked pork loin from Nibble Gårdsgris and a rapeseed herb oil. The soup is accompanied by a slice of sourdough from the Kopparlunden bakery in Västerås fried in butter, with cream cheese from the Tvetalund Lantbruk dairy farm outside Köping.
Peas are a legume that has been vital for providing protein in the Swedish diet since the 16th century. Legend has it that pea soup was served at Västerås Castle in 1573–1574, when Eric XIV was imprisoned there. However, this was pea soup with a difference as a pinch of arsenic was added to every serving, and this is said to have led to the deposed king's death in 1577.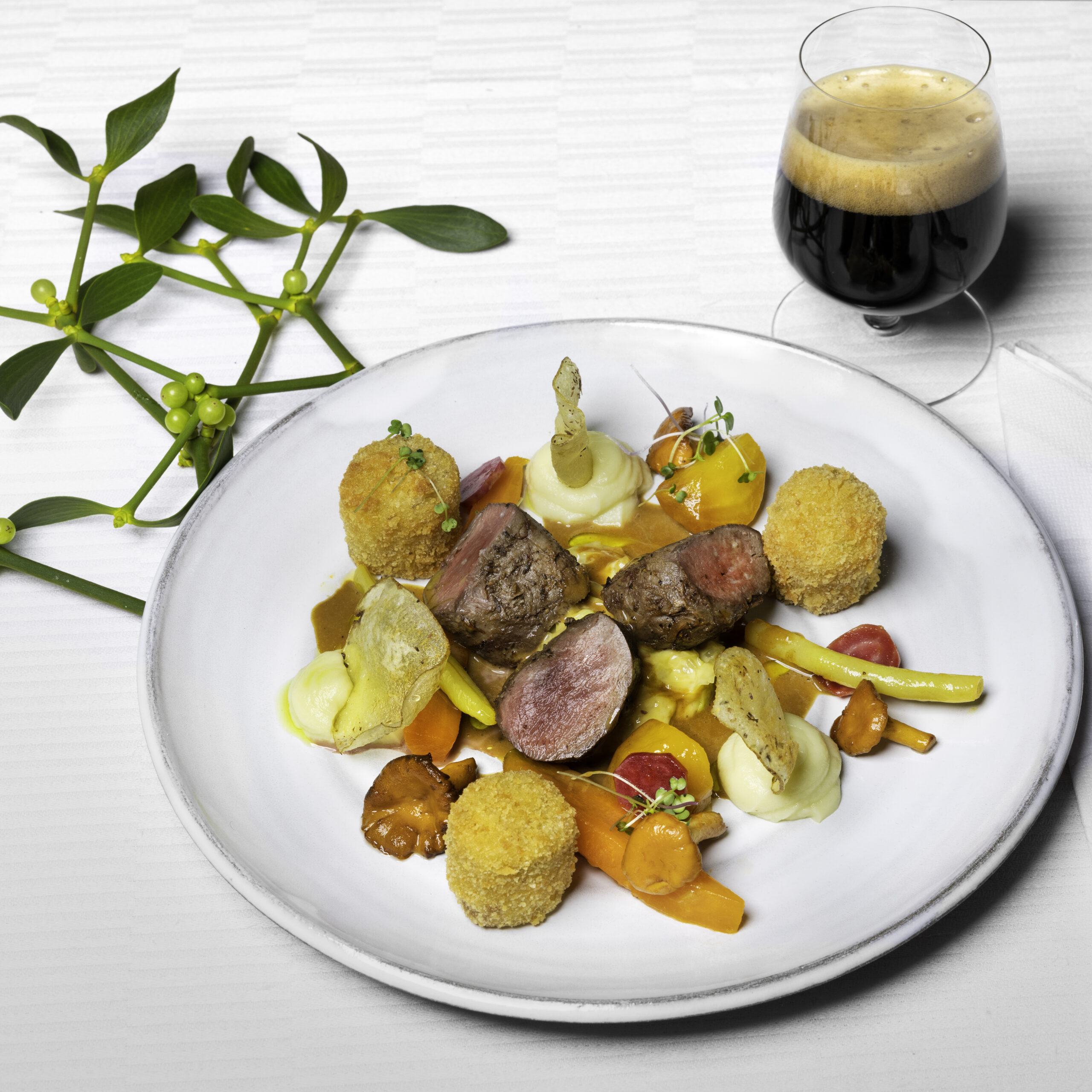 Main course
Fillet of venison coated in blackened funnel chanterelles with an apple cider sauce
The roe deer is the animal of Västmanland and the funnel chanterelle is the county's mushroom. Together they make an unbeatable combination. With an apple cider sauce and a range of exquisite locally grown spring vegetables, the result is a delight for the eye and the palate. 
Dessert
Cucumber and citrus sorbet
The cucumber in the sorbet comes from Kärrbo farm in Västerås. The eggs are from the Ibbarsbo smallholding in Kolsva and the dairy products from Tvetalund lantbruk in Köping. 
Master gardener Bohnsack first started growing cucumbers in Västerås castle gardens in the eighteenth century. From the castle, cucumber growing spread in the town and the surrounding rural area. In Bohnsack's time, cucumbers became common and were pickled, with Västerås gherkins sold in Stockholm. Since then, Västerås gherkins have been sold across much of Sweden. Västerås is strongly associated with cucumbers and has even been known as the 'cucumber town' at times in its history. The recipe for the Jenny twist from Munktorp was written down in 1912. 
Västmanland is a cross-section of Svealand, the historic heart of Sweden. The riches of the north have been shipped out from these shores of Lake Mälaren since time immemorial, creating a landscape rich in variety for humans and animals alike. 
The people behind the menu
Concept and recipes
Starter: Hans Johnson.
Main course: Andreas Sorvegli and Fredrik Smystad, 2Ess Restaurang & Catering.
Dessert: Agneta Lokrantz.
Beautifully presented
Simple white china, plus a green colour scheme for the food itself, ties in with mistletoe, the county flower of Västmanland.
The cutlery, glasses and napkins are from the County Governor's Residence. 
The ceramics are by Merja Rosenholm from Rosenholm Keramik in Arboga. 
To drink
Starter
Locally produced lager or a filtered apple juice from Köpings musteri
Dessert
Sweet apple juice from Köpings musteri