The Västergötland meal
Starter
Beef carpaccio, Vendace roe from Vänern and Jerusalem artichokes
A combination of fish, meat and vegetables – a modern surf 'n' turf.
Vendace roe from Vänern, Vänerlöjrom, has protected designation of origin (PDO) status.
Main course
Pearl barley risotto, baked and pickled swede
Topped with butter and Wrångebäck cheese, a cheese from Almnäs bruk with protected designation of origin (PDO) status.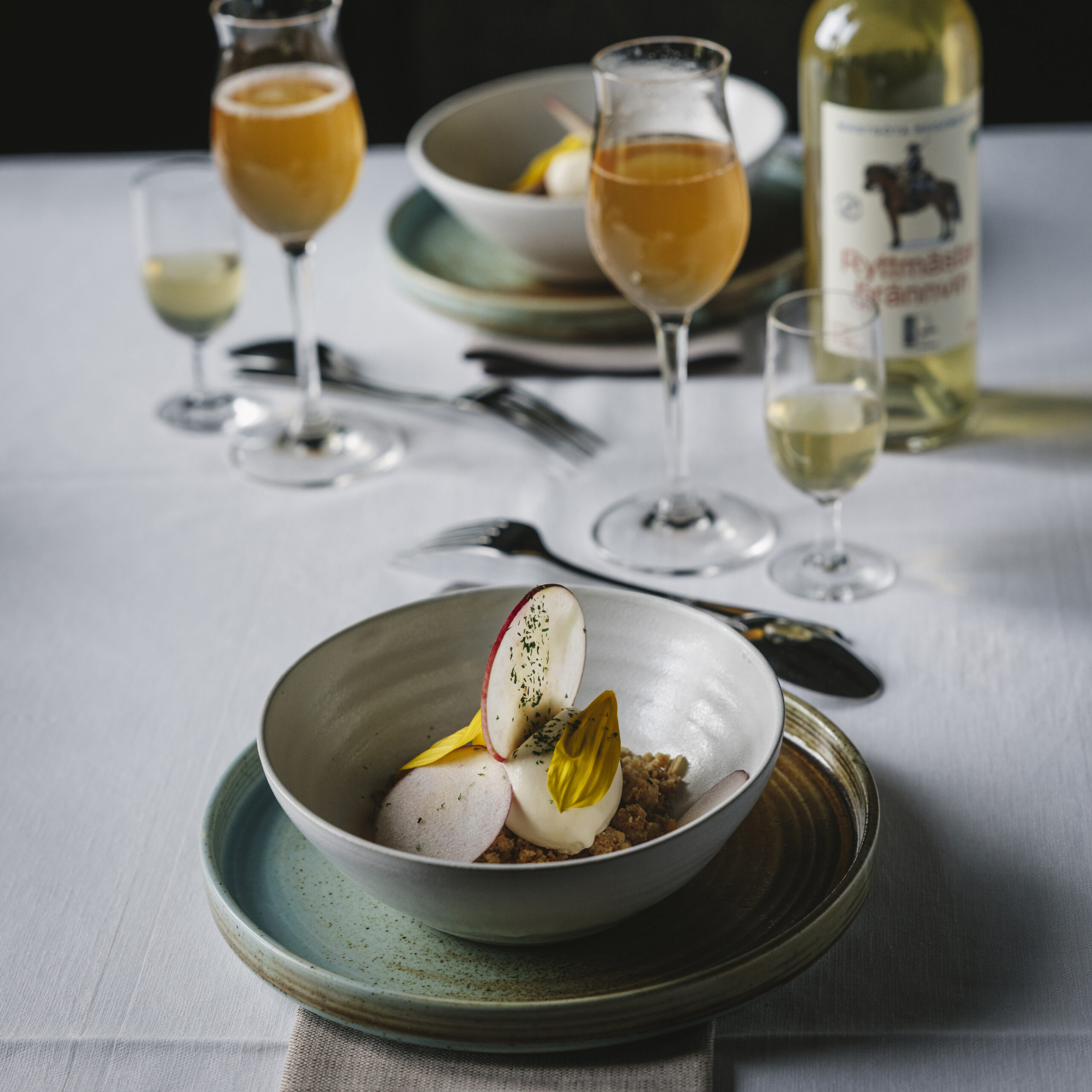 Dessert
Apples, oats and milk from Skaraborg, a hay ice cream and a classic butterscotch sauce with Ryttmästare brännvin spirits
The wide, open plateau mountain, open farmland and Sweden's two largest lakes – Västergötland is truly a heaven for high-quality food production. Here, it's local produce that counts – largely due to the close and open landscape which has been farmed for centuries. 
The people behind the menu
Concept and recipes
Anton Schaud from Bjertorp Slott in Kvänum designed the Västergötland meal. With Claes Wernersson from Qvänum Mat & Malt, he has produced a menu founded in tradition and history, with a focus on sustainable local ingredients. 
To drink
Starter
Champagne André Heucq Heritage, Blanc de Mineure. Biodynamic farming family business in Champagne. The drink has a round, vinous character with minerality and a long, delightful aftertaste. 
Main course
Helgas Hembrygd, from the local brewery Qvänum Mat & Malt, artisans making beer and brännvin spirits sustainably, focused on local ingredients. The beer is aromatic, completely Swedish and organically brewed in the Saison style. 
Dessert
Mousserande Äppelmust sparkling apple juice from Bramleys in Lidköping. This sparkling apple juice has a long, fruity aftertaste, making it the perfect conclusion to a celebratory meal.