The Uppland meal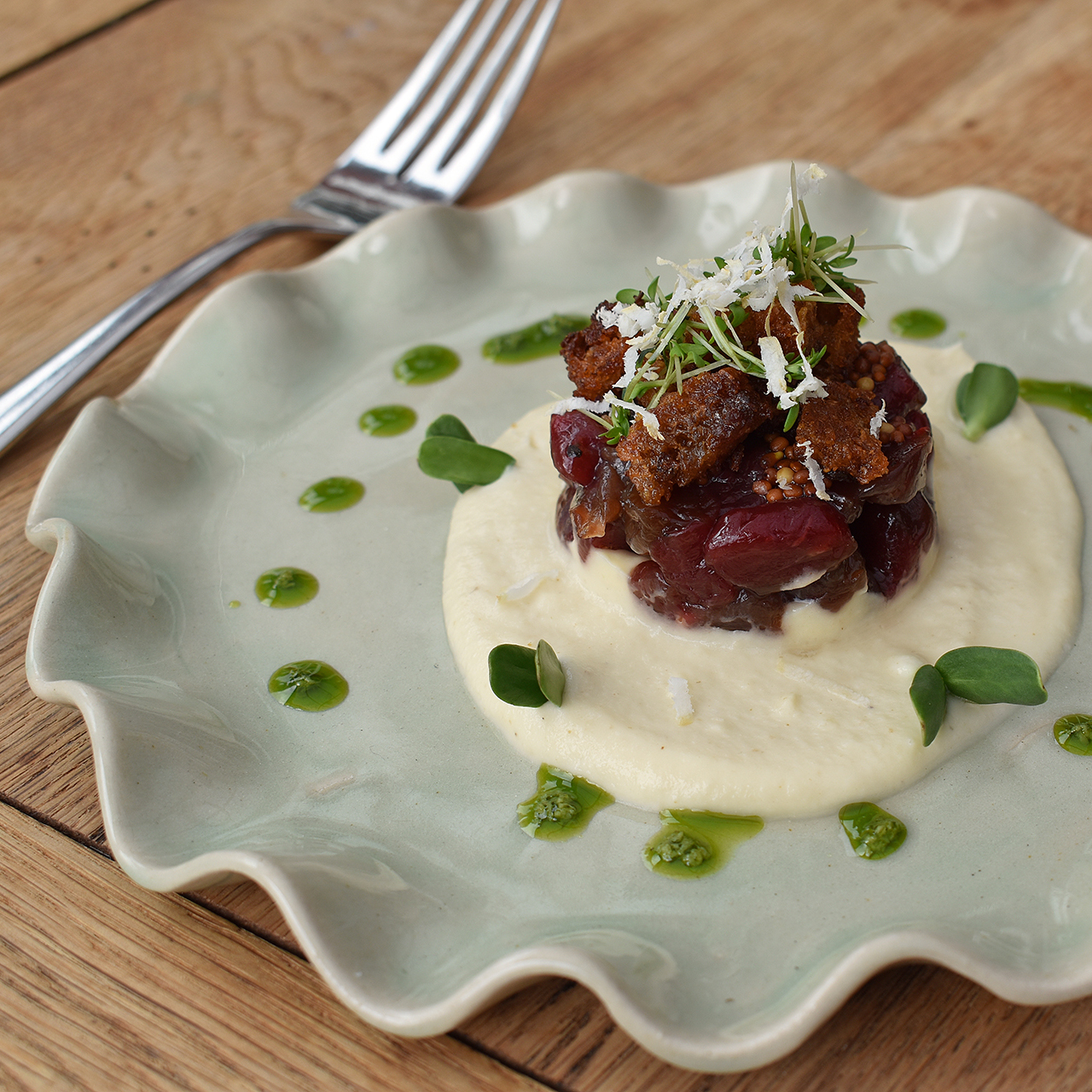 Starter
Juniper-cured venison, pickled mustard seeds, a Jerusalem artichoke crème, horseradish, Upplandskubb croutons
Upplandskubb bread, the grain in the bread and beer, horseradish from the horseradish town of Enköping, mustard, an important spice in the county, venison from the forests of Uppland and bog myrtle brännvin made from bog myrtle from the Uppland coast.
Main course
Pike-perch from Lake Mälaren with butter-fried broad beans, a dill bouillon, beetroot oil, roasted carrots and deep-fried parsnips
Pike-perch from Lake Mälaren, broad beans, which have historically been an important crop for human consumption, vegetables from this county renowned for growing them, and dill, which ties in with the local culture of crayfish. White wine produced from Greek grapes in Uppland.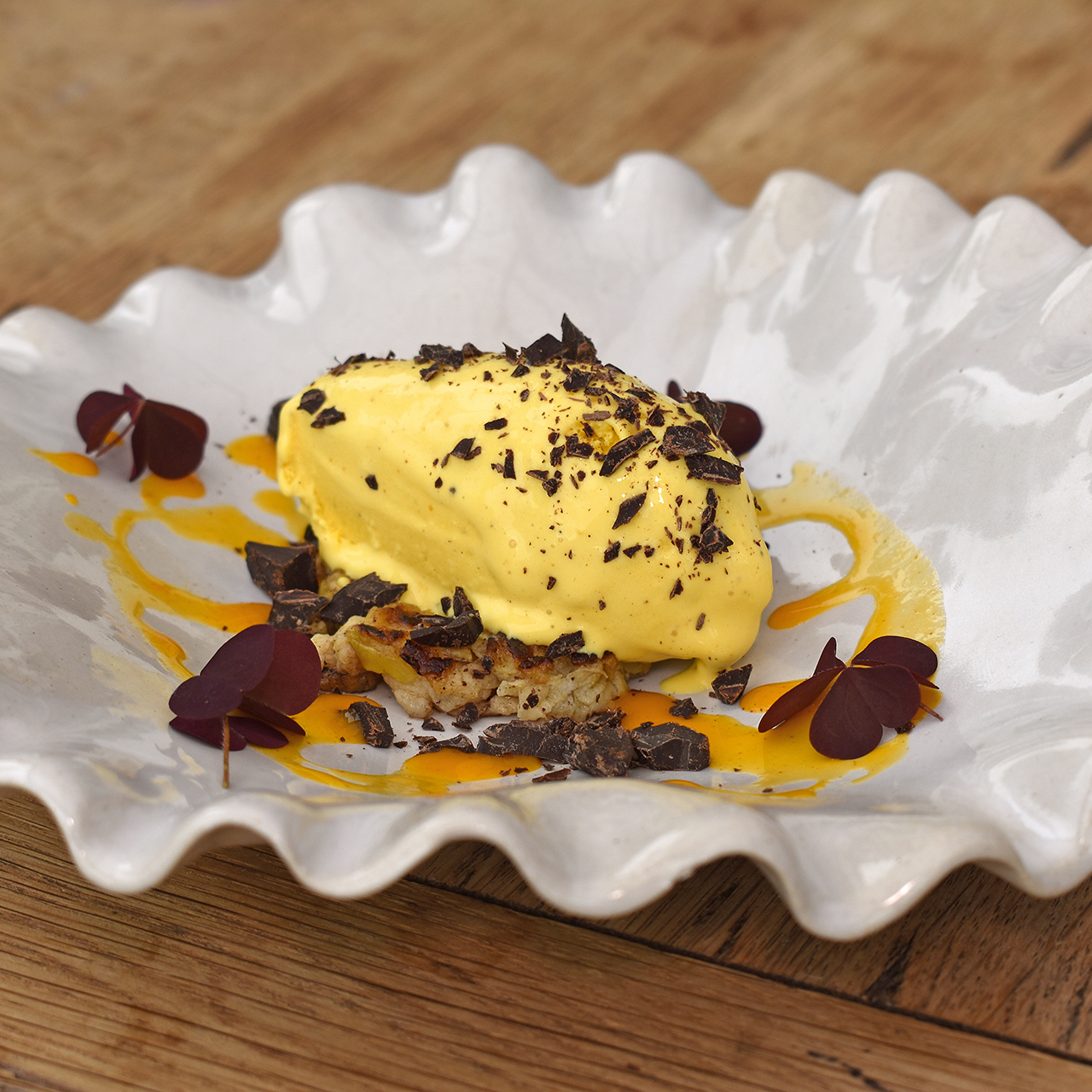 Dessert
Saffron ice cream, crushed chocolate and a sea buckthorn coulis on a Bergius apple pancake fried in butter
Uppsala has historically unique international connections, not least through trade. Saffron is first mentioned in a culinary context in Sweden in the 14th century, in Uppsala itself. The Bergius apple, Uppland's provincial apple, sea buckthorn from Uppland's coast and grain from the plains.
Uppland is divided into three in terms of its food culture; it grows grain, which also means a lot of milk and pork in the central region. Then there is the fishing along the Roslagen coast and in Lake Mälaren, and finally vegetable growing along the Mälaren shoreline. 
The people behind the menu
Concept and recipes
Idea and planning: Linn Bennetoft, Uppsala County Administrative Board
History and expertise: Richard Tellström.
Recipes and purchasing: Vittinge Gourmetlada.
Selection and local backing: Tasting panel.
A three-step process
1. A historic perspective: to start with, Richard Tellström, associate professor in food and meal science, mapped ingredients and meals in Uppland looking at the past, present and future. He also picked out key ingredients which served as inspiration in designing the new county meals.
2. Meal creation: following Richard's survey, catering business Vittinge Gourmetlada took over and started designing the meal itself, drawing on Richard's research. Vittinge Gourmetlada is run by Elin Pihl and Andreas Malmqvist on their own farm. Elin and Andreas have a strong sense of what local and small-scale means and conducted interviews with local residents to find out which dishes and flavours they associate with the county. Vittinge Gourmetlada put a great deal of time into involving local producers, businesses and even the local history association. Everything from ingredients and flowers to china and textiles. 
3. Tasting: after investigation and processing, it was time for tasting. A tasting panel met on two occasions to sample, discuss and modify the proposed dishes. 
To drink
Starter
Swedish Pale Ale from TrainStation brewery and snaps flavoured with bog myrtle
Main course
Länna Bruk's 'Harry' white wine or Linnaeus organic lager from Uppsala Brygghus
Dessert
Älgörtssaft meadowsweet juice or Zwarte Draaksöl 'Apelsinchoklad'