The Södermanland meal
Starter
Nettle soup based on a pike-perch stock, served with slices of swede, a pike-perch mousseline, chives, whitefish roe from Lake Mälaren and a spruce oil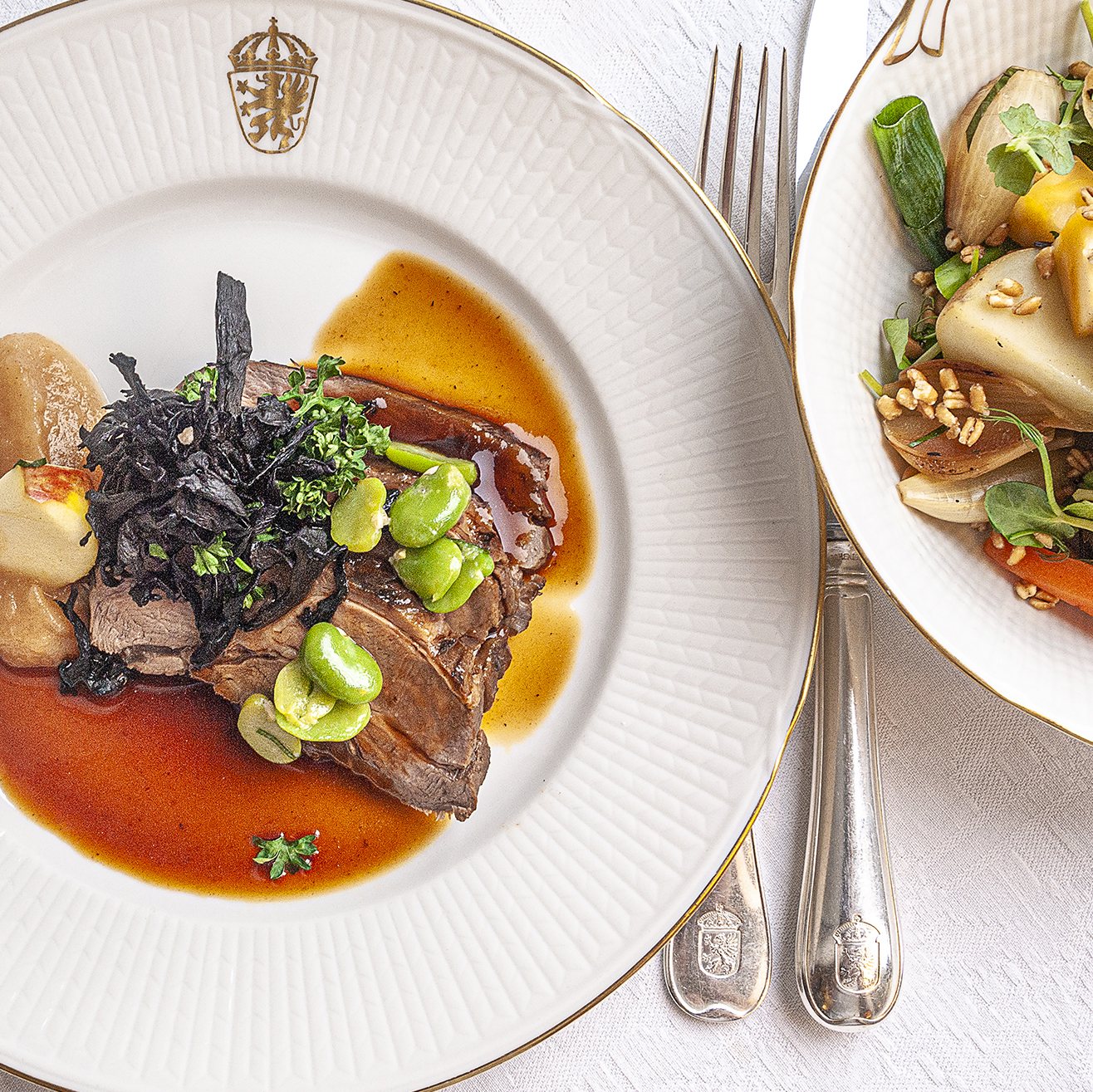 Main course
Wild boar loin with an apple rub using Åkerö apples from Sörmland, black chanterelles and a roasted cabbage gravy
Served with a garden platter of vegetables pan fried in butter, deep-fried pearled spelt and lovage.
Dessert
A chilled rhubarb compote with lightly whipped cream, bee pollen, honey and sweet cicely.
Södermanland, or Sörmland, has perfect growing conditions for a large number of crops, plenty of lakes and a Baltic coastline. The county's thriving game stocks are an unexploited and climate-smart resource. Local innovation and entrepreneurship has also led to the forest itself becoming an important source of food in the county.
The people behind the menu
Concept and recipes
County Governor Beatrice Ask tasked Tobias Andersson, Patrik Arneke, Maria Printz and Jonas Hammar of the Sörmland Food Cluster with developing Södermanland's new County Meal. 
A table from Sörmland
Ebba von Wachenfeldt, glass artist, glass blower and designer from Skeppsta Hytta, created the hand-blown glasses.
Ina M Andersson from Osprey Studio in Fogdö made the colourful side plates for the bread and the little einkorn dream biscuit that forms part of the dessert, as well as the warm garden platter for the main course. Ina's tableware represents a new generation of artisans working at the boundary where art and craft come together, hand in hand with the sustainable food culture in the county.
Anna Lindell is a self-taught master potter from Jönåker with her own studio on her parents' Rosendal farm. Her involvement in the Sörmland Food Cluster means she now makes china for Sweden's top restaurants. Anna's timeless white range allows the food to shine, and her skilled design bears the needs of diners and waiting staff in mind.
Photos: Patrik Arneke.
To drink
Starter
Nils Oscar God Lager from Nils Oscar Bryggeri
Björkad Äppelmust, apple juice with birch sap from Högtorp Gård
Main course
Old Ale from Eskilstuna Ölkultur
Svartvinbärs Nektar, blackcurrant nectar from Finesserna
Dessert
Sörmland Iscider, ice cider from Pomologik
Kulturmust Åkeröäpple, Sörmland apple juice from Finesserna