The Skåne meal
Starter
Sugar beet soup with field peas, bay leaves and vinegar
Sugar beet from Stora Juleboda Gård in Degeberga 
Field peas from Rönås Gård in Sjöbo 
Dairy produce from  Ängavallen in Vellinge 
Spinach from Botildenborg in Rosengård 
98% of all Swedish sugar beet is grown in Skåne, but very little is used in cooking. Here it is highlighted, along with the field pea, long since a staple food in rural Sweden.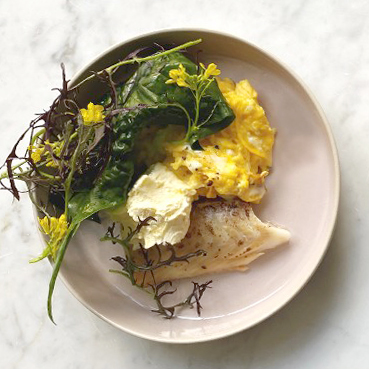 Main course
Warm-smoked farmed clarias catfish with scrambled egg
Smoked clarias catfish from Gårdsfisk in Tollarp,
Eggs from Rosa Skattlådan in Skånes Värsjö
Cream from  Ängavallen in Vellinge
Green leaves (spinach, mizuna, cabbage leaves) from Botildenborg in Rosengård
Cold-pressed rapeseed oil from Gunnarshögs Gård in Hammenhög 
The main course is an interpretation of the traditional Skåne eel party, here with farmed smoked fish combined with scrambled egg and vegetables from urban gardening. 
Dessert
Apple cake made from organic apples, rye bread and a meadowsweet sauce
Apples from Stora Juleboda Gård in Degeberga 
Rye bread from Mat- och Chokladstudion in Malmö
Meadowsweet foraged in Stora Hult
Honey from Maries Bihantverk in Kirseberg 
Dairy produce from Ängavallen in Vellinge
Using sustainable, local ingredients, the pudding is an interpretation of the dessert eaten as part of the traditional Skåne goose dinner on the feast of St Martin in November. Instead of vanilla, we used meadowsweet. 
When eels are aplenty we welcome their bounty 
For Skåne so fair is a generous county 
We sow and we harvest all the day long
And flavour our spirits with cumin so strong
Our stomachs we fill with beets and new peas
And eggs lightly scrambled our bellies do please 
Then we pause just a moment our feast to complete
Before apple cake leaves us all fully replete 
Drinking song: The breadbasket of Sweden 
Creator
The menu was designed by Frida Nilsson, head chef at the ESS Group. 
To drink
Starter
Orange vin, amber wine from Vejby Vingård in Vejbystrand
Apple juice with hops from Beskow on the Bjäre Peninsula
Main course
IPA öl (Fenton) from Remmarlöv in Eslöv
RÅÅ alcohol-free beer from Helsingborg
Dessert
Äpplefrost 2020 from Sövde Musteri in Sjöbo. 
Maglehem nr4, apple juice from Maglehems Musteri in Maglehem 
Snaps 
Malmö Akvavit from Malmö