The Östergötland meal
Starter
Potato takes pride of place on the plate, served in a reduced crayfish bouillon.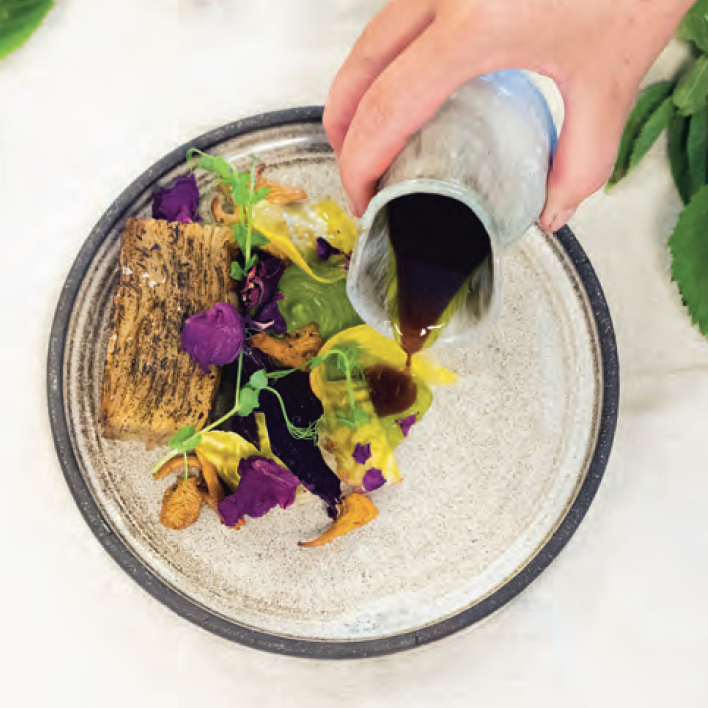 Main course
The farmer and the forest: Root vegetable terrine, chanterelles fried in butter, baked beetroot, pickled yellow carrots, and a mushroom and rose hip jus. Venison, wild boar and a yellow pea croquette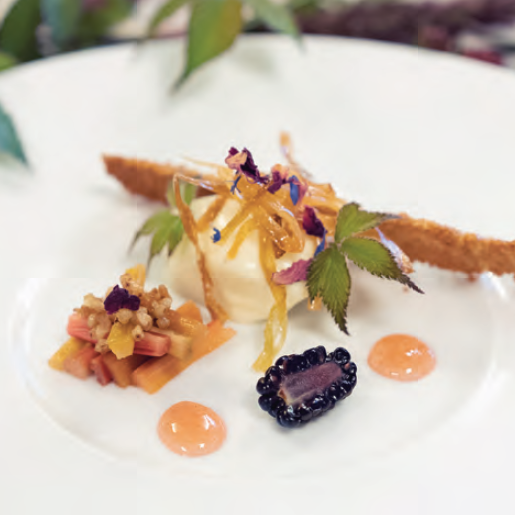 Dessert
Cream cheese mousse flavoured with elderflower, rhubarb and Saint Birgitta's spiced oat tuilles.
The county of Östergötland features wide open plains and rolling forest-clad hills. The menu brings together farming and agriculture in the open landscape and the wealth of game and plant life in the forest. 
The people behind the menu
Concept and recipes
Maria Pettersson, Marcus Andersson, Mia Bremer,
Daniel Blomqvist, Louise Ridderström, Peo Jonsson, Victoria Kahnborg‐Edoff, Andreas Johnsson, Mikaela Andersson, Thomas Gustafsson, Jonas Alvin and Andreas Landén.
From the farmer: Farming is seasonal, using different storage methods to make the best use of ingredients and serve them all year round as extra flavour or as the focus of a dish. The food is served on individual plates and is vegetarian.
From the forest: Venison and wild boar as there is plenty of game in the county. The choice of meat, sausage and jus is based on using the whole animal. 
A sharing approach is taken to all the protein and sauces – meat, a little sausage and a yellow pea croquette. 
The dessert highlights the beautiful rhubarb fields at the foot of the Omberg mountain, partnered with a spiced biscuit said to originate from Saint Birgitta. 
Beautifully presented
The meal is presented on natural china, with wood and props to reinforce the sense of being close to nature. Glasses and glass plates come from Reijmyre Glassworks. 
Photos: Andreas Carlsson. 
To drink
Starter
Jun-kombucha, hops, lemongrass from Qvillinge ekologiska.
Main course 
India Pale Ale alcohol-free from Wikbolandets Gårdsbryggeri. 
Dessert
Sparkling elderflower from Brunneby musteri.