The Gotland meal
Starter
Salted ide fish tartare with toasted meadow hazelnuts, apple, a wild garlic aioli and a spelt crispbread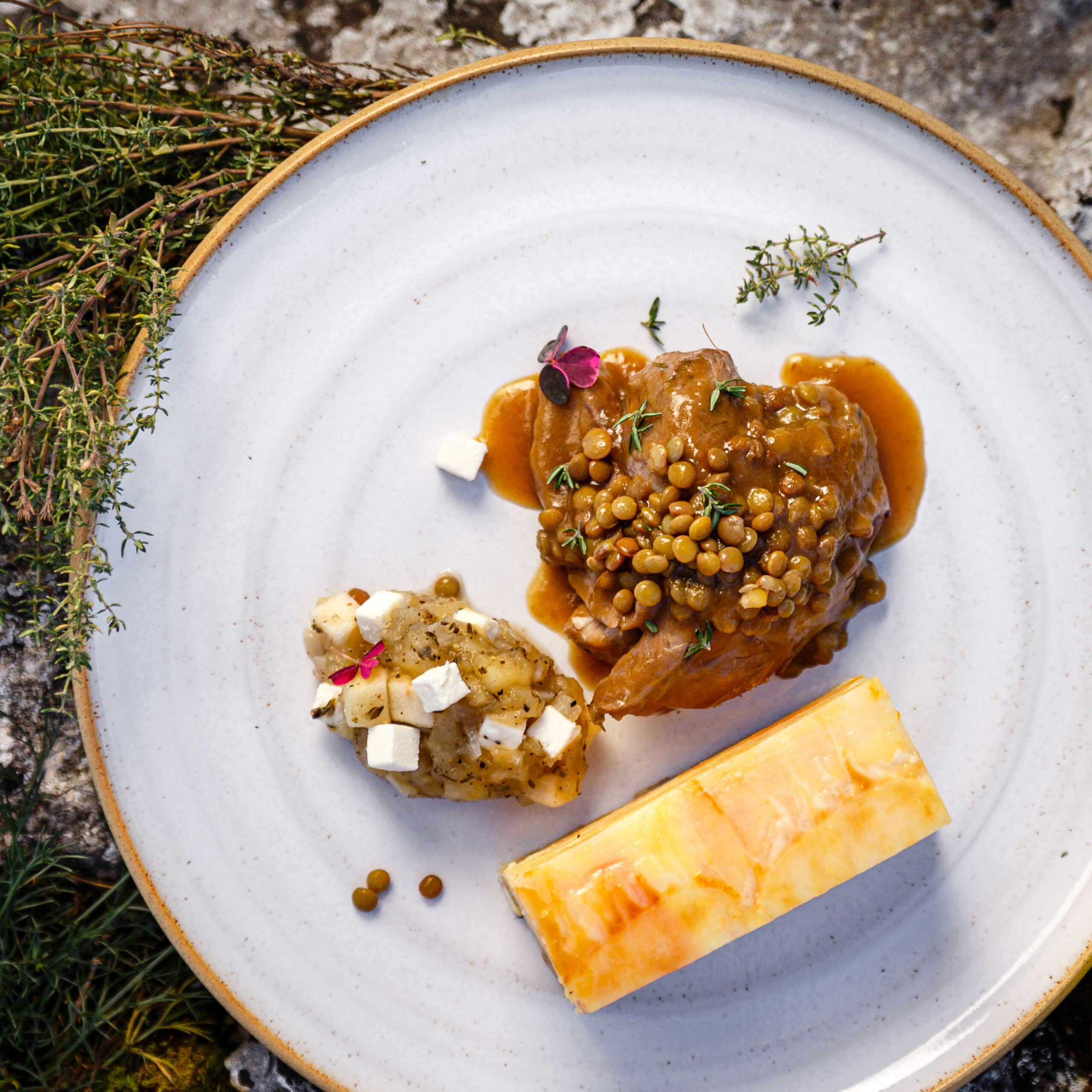 Main course
Gotland Hånnlamb lamb shank baked in apple, a root vegetable cake with wild thyme, Gotland lentils in an apple gravy, apple chutney and Stafva covre cheese
Dessert
Apple ice cream from Stenkyrke apples flavoured with cinnamon and cardamom, served with a beetroot caramel, puffed Ragnar heritage grains and an apple crunch
Text
The Gotland meal highlights 'hånnlambi', the Gotland horned sheep that has protected designation of origin status, the fish ide, which has made a return to the kitchen, the Stenkyrke apple, Gotland's provincial apple, wild thyme, wild garlic and the hazelnuts found in meadows and pastures, as well as heritage grain from Ardre, root vegetables and locally produced cheese. The spices come from the age of the Hanseatic League when Gotland was a centre of Baltic trade.
The people behind the menu
Concept and recipes
The Gotland meal is the brainchild of Martin Ragnar, Björn Hjernquist, Anncatrin Hjernquist, Riina Noodapera, Mikael Wiflings, Dennis Jalonen and Victor Domnauer.
Project manager at the County Administrative Board, Gunilla Lexell.
Expert group and tasting panel
Anders Flanking, County Governor
Sanna Palomaa, Rural Development Director
Daniel Michaneck, Gotland student union Rindi
Karin Lekander, Restaurant and food programme 
Susanne Welin-Berger, Gotland Grönt Centrum
Frida Ganshed, Gotlands Förenade Besöksnäring
Erik Öhrn, Tillväxt Gotland, gastro-tourism 
Thomas Östlund, Protos
Photos: David Skoog.
To drink
Starter
White Gotland kombucha or a Gotland-brewed beer
Main course
Mustglögg mulled apple juice from Halfvede musteri or Gotland wheat beer
Dessert
Sparkling tea or Äpple spirits, an eau de vie from Boge bränneri