The Värmland meal
Starter
Värmland seared steak tartare
Ingredients from Kils slakteri, Stöpafors, Åshammars trädgård, Värmlandsägg, skogen runt hörnet, Höjes bageri and Grinnemo. 
The soils and the climate are perfect for growing grass, which the grazing cattle turn into meat and milk. These natural pastures are home to the highest number of species in Sweden and can be compared with a rain forest in terms of its biodiversity. Cattle that are mainly grass fed grow a little more slowly, producing beautifully marbled meat with a lot of intramuscular fat. All the herbs they eat also enhance the flavour of the meat.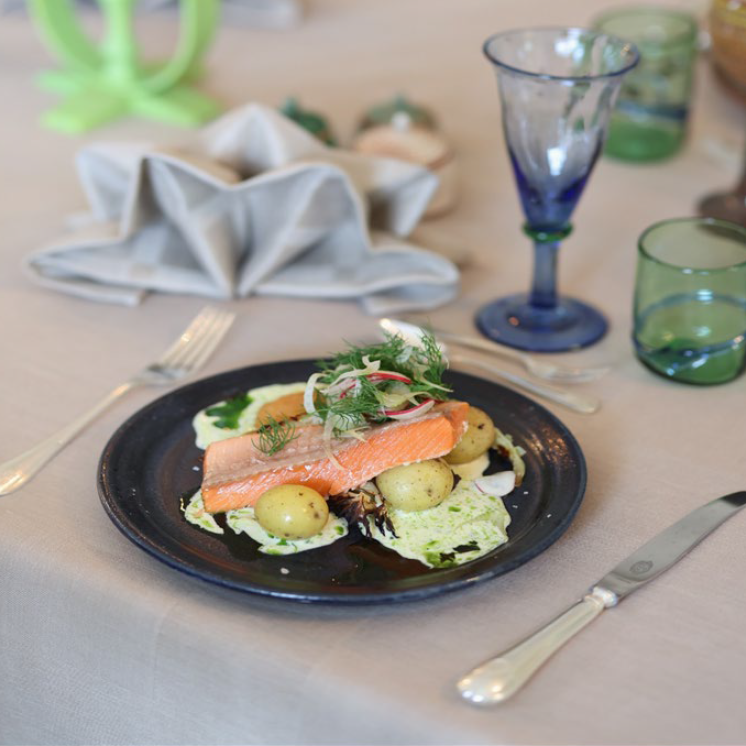 Main course
Fillet of rainbow trout, pointed cabbage, cream, horseradish and dill with vendace roe from Lake Vänern
Ingredients from Gustava, Åshammars trädgård, Wermlands mejeri, Åshammars gård and Vänerlöjrom.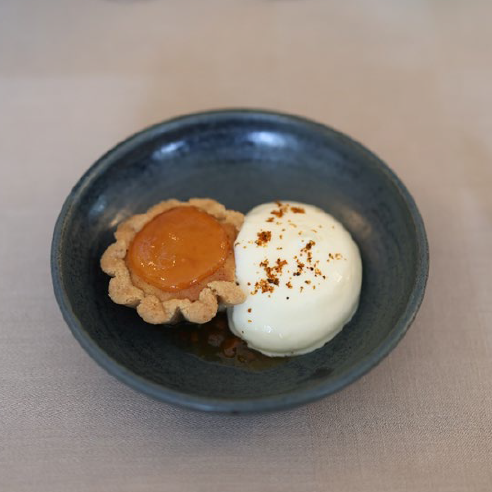 Dessert
Mazarin made from skrädmjöl oat flour with browned butter, yoghurt and cloudberries 
Ingredients from Wermlands mejeri and Torfolk gård.
Skrädmjöl oat flour from Värmland has recently been awarded protected designation of origin (PDO) status by the EU. The flour is made by grinding toasted oat kernels, giving it a full, nutty flavour. Skrädmjöl is an important part of Värmland's cultural history and was probably brought here by Finnish settlers in the 14th century.
There are six different growing zones in Värmland, producing a unique variety of local produce. Here you'll find everything from salmon, pike-perch and vendace roe from Lake Vänern, to numerous tender fruits, vegetables and grains grown in the warmer areas close to Vänern, and cloudberries that grow in colder bogs in the northern forests.
The forests provide a wealth of mushrooms and berries. Natural pastures are found on the open coastal meadows on the Vänern shoreline and in historic mountain pastures and the land used for slash and burn agriculture by migrant Finns in the 17th century. 
The people behind the menu
Concept and recipes
In deciding on the meal to represent Värmland, the County Administrative Board worked with Nifa, a group of food and beverage businesses in Värmland working together on development, skills supply and networking, and Visit Värmland, a platform that supports and develops the Värmland tourism industry. 
Three chef teams reached the final. These were Bibbi Kringlund from Kulinarika, Christoffer Schyman and Robin Sundholm from Almars krog, and Frans Schubert and Geert Barelds from Bröderna Olsson. The winning team chosen to represent Värmland is Frans Schubert and Geert Barelds. 
Beautifully presented
Värmland has a great deal to offer in terms of arts and crafts. A table set for Värmland boasts textiles from Klässbol, ceramics from Karlstad and Arvika, and glasses from master glassblowers in Sunne as well as the traditional Taserudsstaken candelabra. 
To drink
Starter
Fryken Ale. Västra Ämterviks bryggeri 
Main course
Moon Islands, beer from Ten Hands in Kristinehamn 
Dessert
Grythyttan hjortron, cloudberry wine from Grythyttans vin