The Stockholm meal
Starter
Crudo of Lake Mälaren pike-perch with local greens and a ginger mayonnaise
A salad bowl featuring pike-perch from Lake Mälaren, fresh leaves, shoots and herbs grown in the Stockholm region, and ginger, lime and black pepper. Best eaten with chopsticks.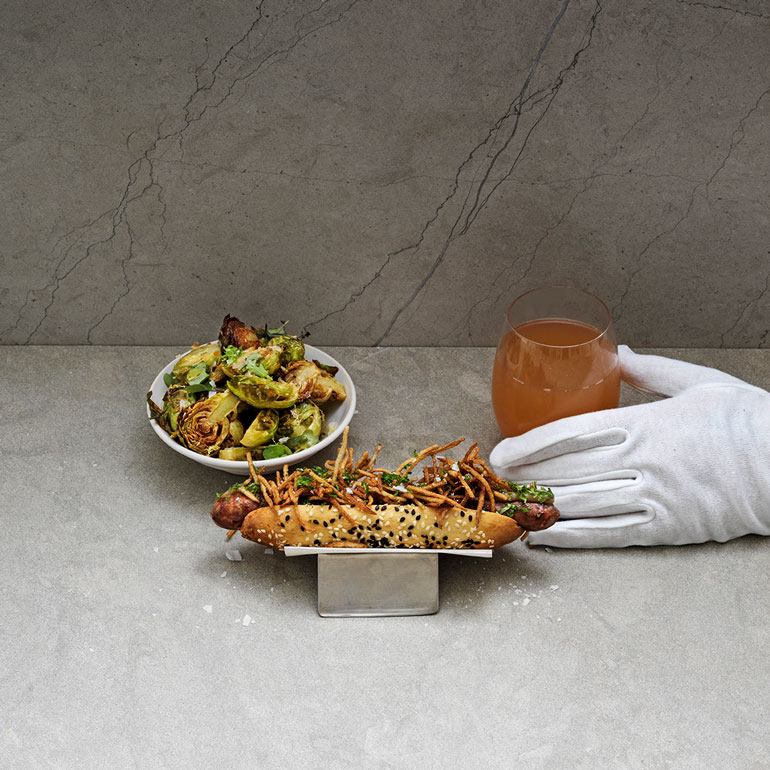 Main course
Lamb sausage with fennel, roasted Jerusalem artichokes, gravy, crunchy potatoes, cabbage and Karl Johan mushrooms
The sausage was chosen because sausages were first served as fast food at the Stockholm Industrial Exhibition of 1897, at the time with a white glove rather than in bread.
The ingredients come from Södermanland and Uppland.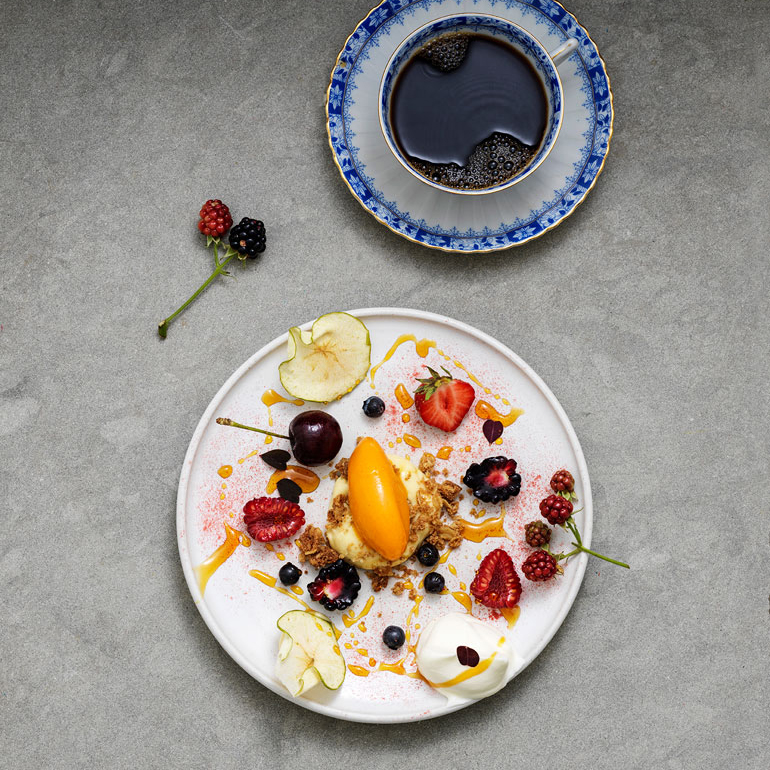 Dessert
Baked cream cheese, a sea buckthorn sorbet, seasonal wild berries, oats and cream
The dessert celebrates the Swedish invention of the cream separator, which revolutionised dairying around the world. In 1878, Gustaf de Laval and his business partner Oskar Lamm patented their invention and started to make cream separators in a workshop on Regeringsgatan in Stockholm.
The Stockholm meal is eaten where people are, outside fast food restaurants, in the dining rooms of retirement homes or at official dinners.
The theme of 'fun dining' sees the Stockholm meal emphasising playful and easily accessible food. The meal and the recipes can be adapted to the context and the starter and main course can be eaten with chopsticks, fingers, or while wearing gloves.
The people behind the menu
Concept and recipes
Stockholm's County Governor Sven-Erik Österberg commissioned chefs and creators Mathias Dahlgren, Staffan Naess and food entrepreneur Hans Naess to compose a three-course meal.
"Stockholm is a cultural, political, media and financial centre. Sweden's capital sits where Lake Mälaren flows into the Baltic Sea and geographically spans the counties of Södermanland and Uppland. This modern, urban city is also the place where Sweden meets the rest of the world, giving Stockholm the multicultural food scene it enjoys today. With this in mind, we chose to present Stockholm as a meal of three dishes, with each one highlighting the capital's culinary identity and history in different ways," says Mathias Dahlgren, who runs restaurants including Matbaren and Rutabaga at Stockholm's Grand Hôtel.
Photos: Lennart Weibull.