The Jämtland meal
Starter
Smoked perch, a field pea wafer with herb-stuffed orange milkcap mushrooms and pickled sea buckthorn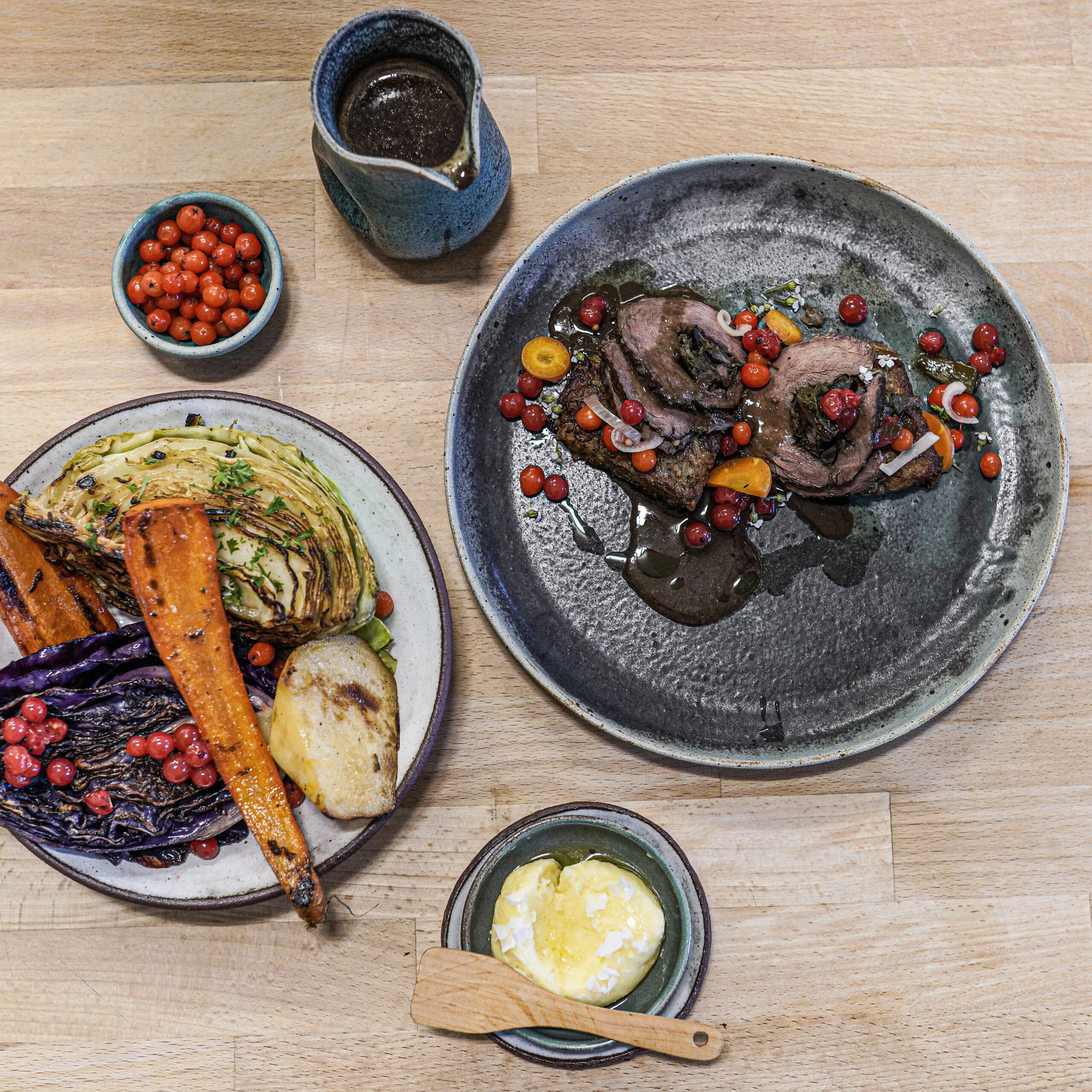 Main course
Seasonal plants* in an elk roulade, potato cake with Jämtland white cellar-matured goat's cheese, baked root vegetables, a rowanberry jam and pickled blackcurrants
*Seasonal plants will change: Stems and leaves of vegetables are used in the autumn, while in the spring it might be wild plants such as ground elder and nettles, and in the summer, spinach. 
Dessert
Deep-fried barley doughnuts with a baked sweet cheese, and lingonberries marinated with spruce shoots
As the popular saying has it, Jämtland is a wonderful place to be. Beautiful in the summer when the trout are biting and the cloudberries calling. Fun in the winter to glide on skis into miles of fells.
The people behind the menu
Concept and recipes
Lena Flaten, Flammans skafferi
Karin Hillström, Fäviken
Johan Rudsby, Nästgård
Malin Ölund, Torsta gårdsrestaurang
Therese Örnerkrans, housekeeper at the County Administrative Board
Peter Dahlbäck, Vemdalens Catering
Christopher Smeds, Fjällnäs
Karin Eriksson, Ost- och bryggstubua
Julia Pearsson, Hushållningssällskapet
Arvid Lorentzon, Eldrimner 
Beautifully presented
Using the classic Jämtland wall hanging from 1968 as a table runner, we place the county itself front and centre. It was painted by Paul Sahlin for Frösö Handtryck, also the source of the napkins. 
The display incorporates birch from the forest, ceramics from Katjas Keramik in Kälen in natural colours, glasses from Storsjöhyttan, and the Jämtland table service decorated with the cross on the Frösö Stone, the northernmost rune stone in the world.  Past and present interact in a living table setting as the main course is shared across the table. 
Photos: Stephane Lombard.
To drink
Starter
Alcohol-free: Kall Kombucha from Kall Natur Kompani
Beer: Beredskapslager from Östersundsbryggerier
Wine: 2020 Aphros Loureiro, Aphros Wine, Portugal


Main course
Alcohol-free: Bara blåbär, blueberry juice from Jämtlands Vingård
Beer: Smokey Mountain
Wine: 2020 Chinon 'Cuisine de ma Mere, Domaine Grosbois, France

Dessert
Swedish boiled coffee from Big Lake Coffee