The Gästrikland meal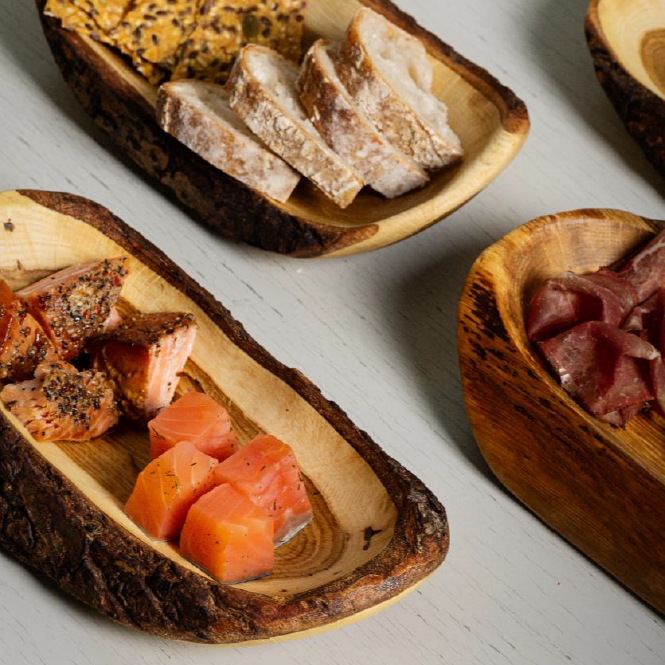 Starter
The craft of the Smörgåsbord
Cheese and salami from Högbo Närproduktion 
Bread from Épi bageri baked using local grains.
Diléns bresaola. 
Cured and smoked salmon from Bergmans Fisk. 


Main course
Gästrikland's
 

fish-filled lakes

Perch, a sea buckthorn emulsion and spruce shoots.
A 'cabbage roll' topped with cabbage and mushrooms.

 
Dessert
Rhubarb and unexpected flavours
Chocolate flavoured with Gevalia coffee and  Mackmyra Swedish Whisky.
Rhubarb from Rabarberbyrån.
Coffee from Café Sarria
The people behind the menu
Concept and recipes
The menu was designed by Hans Erik Holmqvist, Daniel Coyet and Fredrik Kneif.
Beautifully presented
Ceramics from Nordic Minimal, Gävle.
Blacksmithing – SméJohan in Högbo.
Wooden trays and plates – Snellmans Träsmak in Hofors
GlasHyttan at Högbo Bruk in Högbo.
To drink
Starter
Beer from Jädraås bryggeri, The Mosaic Daisy, no. 37435
Main course
Gysinge Brukslager, no. 37509
Coffee
Café Sarria