The Blekinge meal
Starter
Blekinge herring sandwich
An interpretation of the herring sandwich, a simple but classic dish strongly associated with Blekinge. The base is a slice of Ankarstock rye bread, topped with a mix of mayonnaise, onion, egg and dill, crowned with a double-breaded herring fillet.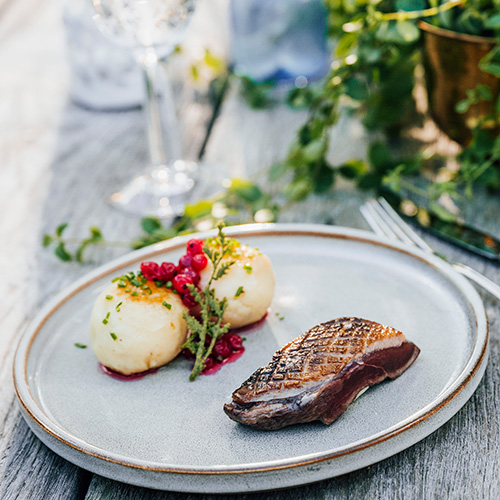 Main course
Blekinge potato dumpling with mallard duck, redcurrants and browned butter
A boiled potato dumpling with mallard duck. Accompanied by honey-sweetened browned butter and garnished with redcurrants.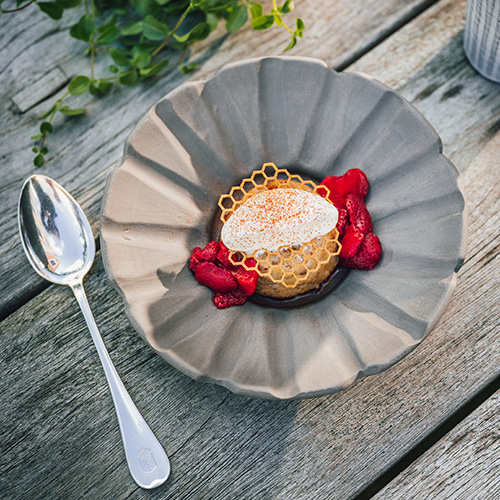 Dessert
Kronans kaka marinated in Swedish punsch liqueur
Kronans kaka is a cake made from potato, almonds, butter and eggs. Here it is topped with strawberries marinated in traditional Carlshamn's Flaggpunsch liqueur.
The story behind the menu is all about using classic, traditional ingredients and giving them a modern twist to epitomise the flavours of Blekinge.
Herring is part of Blekinge's soul, having been fished, salted and exported since time immemorial. Ankarstock bread is first mentioned in a list of breads from 1669 and is the classic military bread in the naval town of Karlskrona. Putting the herring and the bread together is about tasting part of Blekinge's history.  
Potato dumplings are a well-known and much-loved dish in Blekinge, which has always grown plenty of potatoes. The dumpling could be filled with fish, waterfowl or whatever was available, but the most common filling was diced pork and allspice. The menu features mallard, a common bird in Blekinge, which has a mild flavour. The flavours are lifted by the acidity of the redcurrants.  
Kronans kaka is a forgotten classic, and it too is based on potatoes. Often served by military caterers, it is strongly associated with Blekinge thanks to its naval base, air force wing and coastal artillery. Blekinge was a major producer of strawberries over a long period. Here they are marinated in traditional Swedish liqueur, Carlshamns flaggpunsch – a perfect match.
TO DRINK
Starter
Carlshamns öl beer from Brygghus 19 in Karlshamn has a malty flavour with elements of syrup, crispbread, apricot and orange. The beer is served well chilled and the glass beside it is filled with a few centilitres of Bäska Droppar wormwood liqueur for the best taste experience.
Main course
A glass of white wine, preferably with a fresh flavour, elements of yellow apples and a buttery finish, such as Olivier Leflaive Bourgogne Les Sétilles 2020.
Dessert
A glass of Carlshamns Flaggpunsch and a cup of coffee rounds off the meal perfectly.
THE PEOPLE BEHIND THE MENU
Concept and recipes
The Blekinge meal was designed by Nils von Raison and David Larsson from Eriksberg Vilt & Natur.  
Jury
Ulrica Messing, County Governor of Blekinge
Filip Gamelius, chef and Blekinge food personality
Louise Borgström, chef and Blekinge food personality
Photo
Andreas Blomlöf